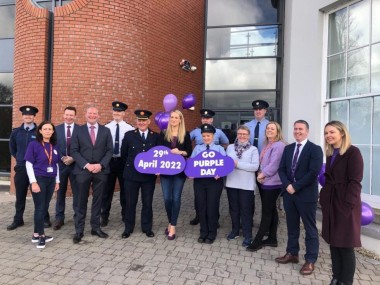 Ireland goes purple to highlight the prevalence of domestic violence and abuse
On Friday 29th April 2022 please show your support and solidarity with victims of domestic violence by wearing something purple.
The national campaign started by Garda Stacey Looby (Athlone Garda station) when she was stationed in Navan Garda Station back in 2020 and has grown huge momentum and support over the past three years.
Campaigns like this help to break the silence of the insidious issue that is behind too many homes across Ireland and give confidence and encouragement to any person experiencing an abusive relationship.
Men's Aid would like to extend a sincere thank you to all those who have given their support, time and effort in helping us to provide hope to male victims of domestic violence.
 Special words of gratitude to Tusla and the Department of Justice who fund our frontline support team in our own efforts to help male victims feel safe and confident in order to supporting them to report.
Our engagement with victims of domestic violence/ coercive control is increasing, with our 2021 figures at 8,000 engagements, a 42% increase on 2020.
 CEO Kathrina Bentley said "The stigma of victimisation is still prevalent in society, particularly amongst male victims of domestic violence. It is initiatives like Go Purple that are very important as it is only with us all working together to create spaces of support, trust and encouragement that we can help victims who come forward, irrespective of gender".
 Thank you to An Garda Siochana Garda for their efforts and in particular, Garda Stacey Looby.
So please, show your support on the 29th and #Go Purple, take a photo of your purple picture and tag domestic violence services across social media to show your support.
If you are experiencing Domestic Violence please reach out, support is standing by to assist.